Share the fun and beauty wit your team! Relays of 2 or 3 people can enjoy Challenge Cancun!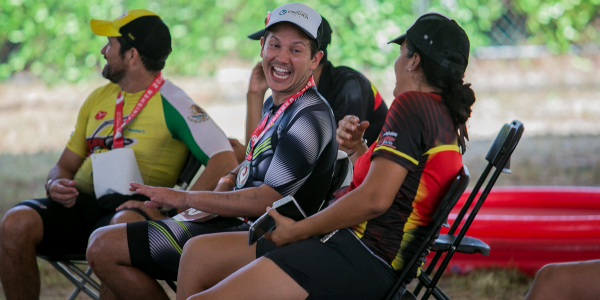 Want to spread the fun with others? Team up with friends or family and multiply the challenge!

Relay teams must have a minimum of 2 members; one member can compete in a maximum of 2 segments. Each member must indicate in which segment they want to compete (swim, bike, run). Relay teams may be all male relay teams, all female relay teams, or mixed relay teams.
Bike check in and body marking
In order to avoid unnecessary contact and large groups of people, you will be assigned a time space to register your bike according to your bib number. Please check the pre race info and athlete guide for the exact schedule.
Climate predictions
October is fall time in Cancún and is typically the 6th coldest month of the year. Daytime maximum temperatures average around a steamy 32°C (89°F),
Whilst at night 21°C (69°F) is normal. The sea temperature is about 27ºC and humidity is around 80%.
Water temperature is around  27.5ºC. (82ºF)  Wetsuits are not permited.
Relay team members must be 15 years or older to participate.